Trader Joe's Seafood Gnocchi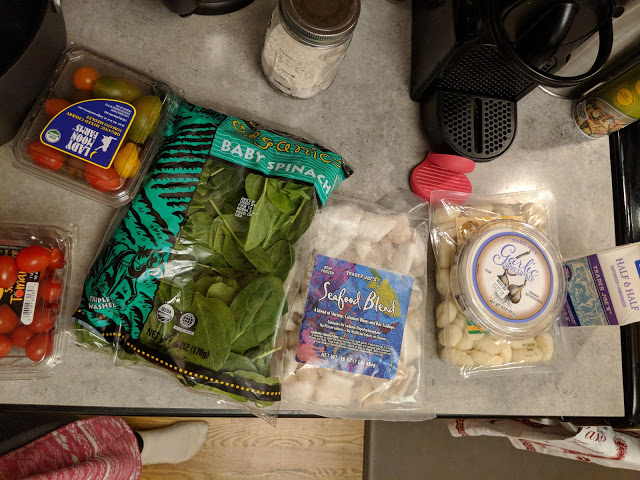 Seafood Gnocchi
I got the inspiration for this recipe from a group on Facebook called Trader Joe's Meal Ideas for Busy Moms. Someone there suggested a scallop, spinach, and tomato saute. I switched it up a bit and added gnocchi and it was so easy and delicious!!
For many things I cook nowadays, I don't measure. It's faster, easier, and less clean up. This recipe is one of those no-measure recipes. So if you're not into that kind of thing, this may not be for you. Also –you could also easily make this vegetarian just by leaving out the seafood or if you don't eat seafood, you could use chicken instead. I used the Trader Joe's seafood blend of shrimp, scallops, and calamari and it was really nice in this dish!
Here's what you need:
Baby spinach
Heirloom and / or regular tomatoes, halved or quartered (I used both because I wanted to use up the ones I had, and I halved them)
Trader Joe's Seafood Blend
Gnocchi or other pasta
Trader Joe's Garlic Spread Dip
Half and Half
Olive oil, salt, and pepper (Side note – this is the olive oil we have been using lately and we love it…. after watching the 60 minutes about Italian olive oil, I've been sticking to California oils and really like the California Olive Ranch one. It was on a great deal from Jet a couple months ago, but the deal is no longer there last time I checked.)
Here's what I did: 
Put water on to boil for gnocchi.
Saute chopped tomatoes with spinach in a little bit of olive oil. Sprinkle on a little salt and pepper. Saute until spinach is wilted and tomatoes look yummy. Set aside.
Add gnocchi to boiling water. Using the same pan you sauteed the spinach and tomatoes in, saute the seafood blend in a little olive oil. Sprinkle on salt and pepper.
Combine cooked seafood, sauteed spinach and tomatoes, half of the garlic spread dip package, a few splashes of half and half, and the gnocchi. Stir together and taste to see if you need more salt and pepper. Enjoy!
Note: I threw the seafood in frozen, but if I did it again I would probably defrost it first because instead of a saute it was more of a simmer because of all the liquid that came out… So after it was cooked, I drained all the liquid and added just the seafood back to the pan.
---
---