Updated Toy Storage
This post contains affiliate links. See more information.
Toy Storage
We moved into our current apartment when our first baby was 2 weeks old! I am a planner, and I spent the last month of my pregnancy planning our new apartment (we moved from 500 square feet to about 1,000 square feet, so a re-design was in order!) I sold almost all of our furniture before we left Boston, so we came to NYC with a bunch of boxes of stuff! Since I knew I would have a newborn, I picked out everything from IKEA and Target, and I thought of almost everything — except one thing — toy storage!
Pictured below is the before & after of our recent storage update — before we had a TV stand and sideboard combo in the living room. We added a 4-cube organizer for toys, but ended up constantly overflowing with toys! After we added the IKEA Besta cabinet, everything looked SO MUCH CLEANER and was so much easier to keep organized!


I think I was originally planning to keep all of the toys in our son's room, but as he grew and time went on, we realized that we were mostly using the toys in the living room. Things changed a lot from when we first moved in until now… I made many small adjustments along the way, but eventually I knew we needed a new solution. I wanted something that would keep the toys out of sight when they weren't being used, but would be easy enough for the kids to see everything they had and be able to access as they choose. I finally found it with this IKEA Besta cabinet.
What we ended up doing was creating a playroom in half of our living room that matches the decor of the rest of the room. My favorite piece besides the new cabinets is the Ruggish playmat. It matches the rest of the space on one side and has a neutral-toned road path on the other side! We also incorporated the IKEA play kitchen and children's table, the Melissa & Doug shopping cart, and a children's chair that we got as a hand-me-down!
Other toy storage we still use & love includes our storage ottomans (that's where we store our toy trains)
and large bins from Target. I have multiple large bins on shelves around the apartment housing DUPLO, a marble run set, and various vehicles.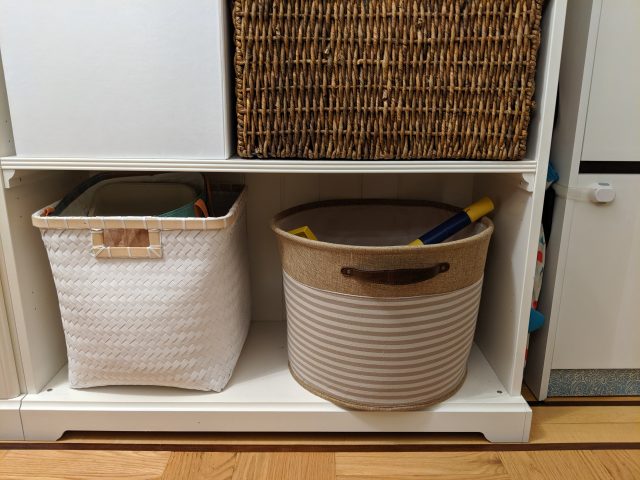 I love this bin and this bin for large floor bins (good for housing vehicles or other items that need a large bin) — This is another great large bin that I actually use as a laundry basket (once the laundry basket became a continuous object present in my living room I ditched the traditional plastic bin and use something I enjoy looking at.)
See my toy posts for more on my favorite toys that we keep in all these different places! We also do keep some toys in bins on our Kallax shelves that are in the boys' room, I have a bin for instruments, a bin for puzzles, and a bin for stuffed animals in there! Here is a photo of the inside shelves of the new toy storage that is in the living room: 

---
---