For the Luck of the Irish: Blarney Stones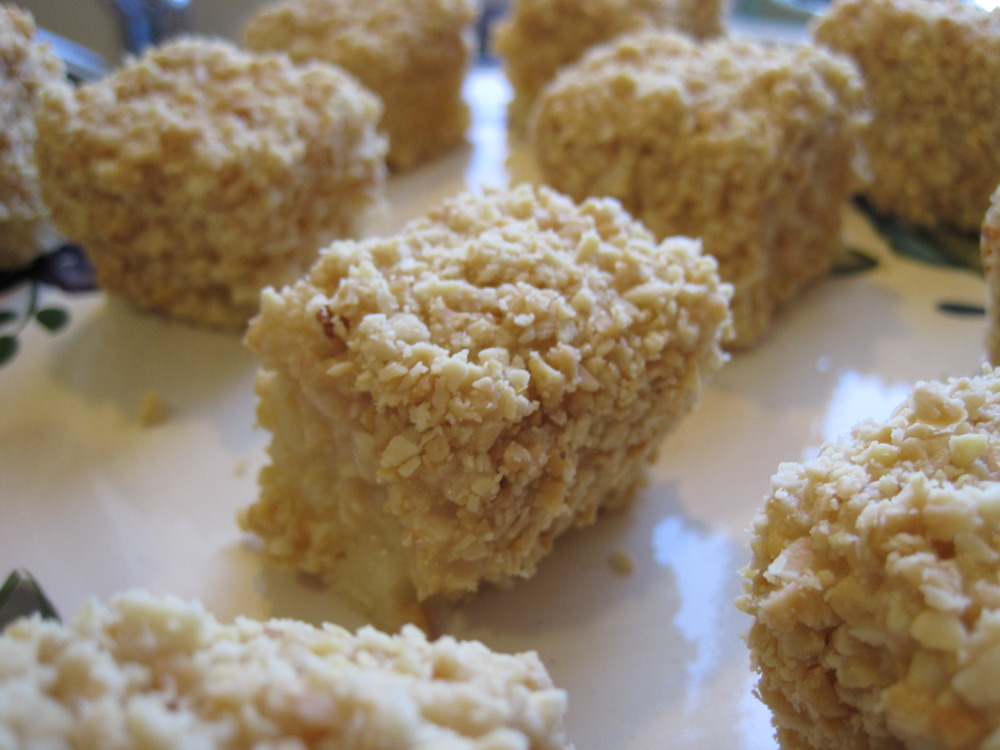 This post contains affiliate links. See more information. 
Blarney Stones
Every year on St. Patrick's day, my grandma makes Blarney Stones. I remember being at home one year when a package from her arrived in the mail: it was a box full of these unique treats!
Here's what you need to make 3 dozen Blarney Stones. The cake recipe can be easily halved.
Ingredients
For the cake:
4 eggs
2 c. sugar (I used 1 1/2 c. sugar and 1/2 c. Splenda)
2 t. vanilla
2 t. baking powder
1/2 t. salt
1 c. hot milk
2 T butter
2 c. flour
For the frosting/coating:
3 c. powdered sugar
1/3 c. milk, plus a little more
1 t. vanilla
pinch of salt
finely chopped/ground peanuts, about 4 cups
Instructions:
—
And now, from the archives… Back in the day when I was regularly reading and making Pioneer Woman's recipes (before I had 2 kids to chase around)… I used to take pictures of every step of my cooking ventures. I did this for Blarney Stones, so lucky for you, here are the step-by-step instructions and photos!
Before you start, preheat your oven to 350 degrees.
To make the Blarney Stones, beat 4 eggs until very light.
Then, beat in 2 c. sugar, 1/2 t. salt, and 2 t. vanilla.
Melt 2 T butter in 1 c. of hot milk…
… and beat it into the mixture.
Lastly, beat in 2 c.sifted flour and 2 t. of baking powder.
Have a 9 X 13 pan greased and floured.
Pour batter into the pan.
Bake at 350 degrees for 25 – 35 minutes. It took my cake 30 minutes for a toothpick to come out clean.
Let the cake cool until it is completely cool. I let it cool for a couple of hours while I did some other things around the house.
Cut the cake up into squares/rectangles: however you like.
Grab some peanuts.
Chop them up nicely in a food chopper:
Then, put them on a plate.
Now, get the frosting ready by combining 3 c. powdered sugar, 1/3 cup milk, a pinch of salt, and 1 t. vanilla.
Whisk it together and add more milk if necessary until it reaches a thin-ish consistency.
Now, it's time to assemble the Blarney Stones! Take one cake square,
dip all sides but one in the frosting,
let any excess frosting drip back into the bowl,
roll the frosted square in chopped peanuts,
and place on a cooling rack to harden.
Repeat this process for all of the cake squares.
And that's all it takes!
Enjoy 🙂 Happy St. Patrick's Day!
---
---