Traveling with Littles: A Weekend in Chicago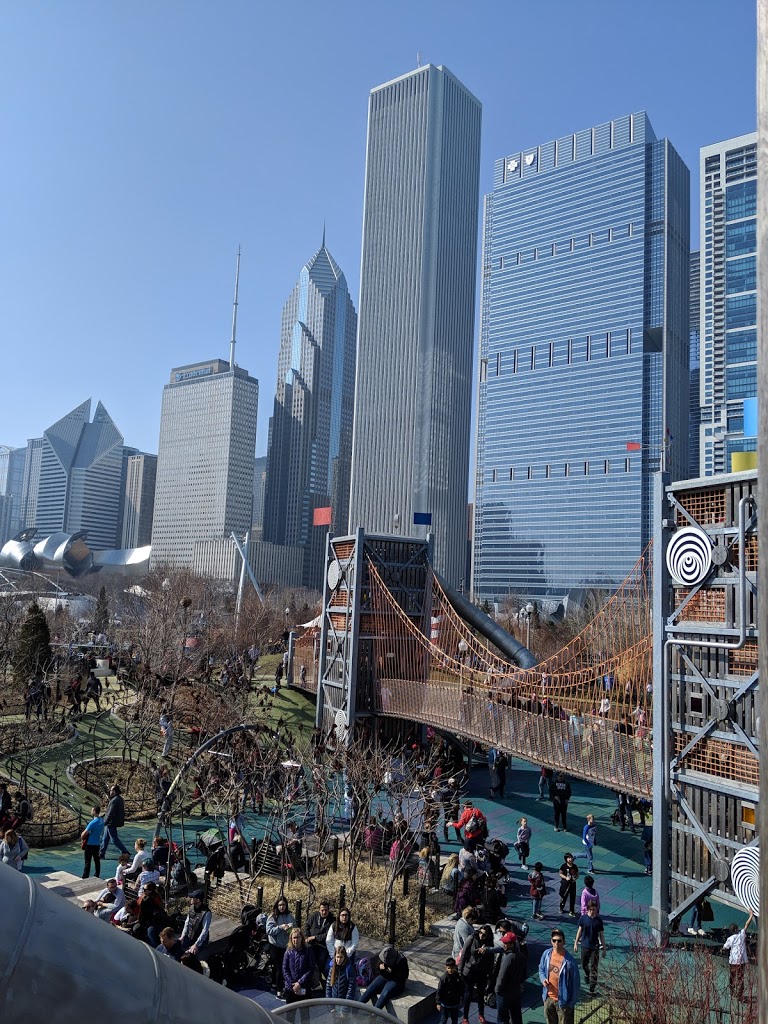 This post contains affiliate links. See more information. 
We had a blast this past weekend visiting a new city — Chicago! I love traveling with my family even though traveling with littles is not always easy. I've written many of my tips and tricks for traveling here, here, and here, and here!
For this particular trip, we accompanied my husband on a weekend work trip, so we left on a Thursday evening. Our flight left at 6:50 PM, and we left for the airport around 4:30 PM. We ultimately should have left a bit earlier as the traffic was terrible and we didn't get to the airport until around 5:50 PM. I also made the mistake of not feeding the kids or packing a dinner (was planning to pick something up at the terminal) but due to being a little late, we were really cutting it close on time. We decided to divide and conquer — I waited in line for food while my husband went to save us a seat on the plane (Southwest doesn't assign seats so when you are with your family, you really have to be at the gate early to make sure you get seats together!) Unfortunately my son needed to use the restroom in an emergency situation and we all ended up missing the family boarding. When we all got to the plane, it was around 6:40 and thankfully the plane was still boarding, but only middle seats were left! The flight attendants kindly asked for volunteers to move and ultimately we were able to get two seats together. So per my son's request, I sat with both boys and my husband sat a few rows back. It ended up working out fine, though I could have used an extra pair of hands next to me throughout the flight!!
One thing that we used this trip to make things a little easier was the SafeRide4Kids Ride Safer Vest for my 3.5 year old! They very kindly sent me the vest to try out for the trip, and we loved it! He was very excited about his new "car seat" and it was so nice not to have to carry around a big seat for him! We brought the Cosco Scenera Next for my 21 month old, which is one of the most lightweight car seats around, but it is still a bulky car seat! The Ride Safer Vest comes with a backpack to store it in, but we just put it in our backpack. It was very easy to put it on our son and take it off, and very convenient that we could put it on him before getting in the car.
We packed efficiently — 2 large checked bags, one smaller checked bag, a diaper bag, and a small backpack for both my husband and me. I also wore my fanny pack, which I was SO HAPPY to have. I really like having my wallet and phone "on my person" at all times, especially when traveling. We also brought our big and bulky Mountain Buggy Duet double stroller. That thing is not so easy to travel with, but I needed it since we were planning to do a lot of walking in Chicago including going to the zoo. The duet does not fit through the airport security scanner, but they were still able to check it by hand so that I could push it to the gate and gate-check it.
When we arrived in Chicago, it was quite late, and neither of the boys had fallen asleep on the plane! I have learned to have ZERO hope that they will fall asleep on a plane. Of course if they do it is nice, but if they don't sleep at their nap or bed-time on the plane, there is absolutely nothing I can do. So, no reason to stress over sleep or lack thereof on a plane! We were able to get them to bed sort of easily… I brought two tents (pictured above) for them to sleep in! My older son is used to the tent, as he prefers to sleep in it every night, but it was my younger son's first time in the tent! When we first put him down he cried a bit but he fell asleep quickly with me just rubbing his back a bit. And, he slept all night and stayed in the tent all night until morning! He woke a bit earlier than usual, at 6:30 AM, but that was also 7:30 New York time so it was pretty much to be expected! He unzipped himself from the tent and woke everyone up!! (at home he usually stays happily in his crib until we come to get him)
We had so much fun exploring Chicago over the next two days!! Based on recommendations from friends, here was our itinerary: (I would do it all again, everything was great!)
Day 1: Friday
We walked to the Do-Rite Donuts downtown! The donuts were AMAZING and so was the hazelnut iced coffee! It was in a mall that had a LEGO and American Girl store — the boys had so much fun browsing!
I made it easy for myself and stopped at McDonald's for some chicken nuggets and fries for the boys on our way to the zoo. I picked myself up a Potbelly sandwich and ate it while pushing the stroller 🙂 Win-win!! Our hotel was about a 2.5 mile walk from the zoo, so I got some great exercise in pushing the stroller there!
After a long and fun-filled day at the zoo, I made it REALLY easy on myself and took them to a different McDonald's for dinner 🙂 They requested pancakes and the McDonald's was right next to our hotel. I was exhausted and really wanted to eat in peace so I grabbed a Sweetgreen to eat after they went to bed.
Day 2: Saturday
We went back to the hotel for a Saturday morning swim! The boys had a blast!!
After swimming, we went to lunch at Xoco. I would have LOVED to go to Frontera Grill since I love the Rick Bayless shows and recipes, but I knew that I couldn't take the boys there (I mean technically I COULD have, but they truly are not much fun to take to nice restaurants in this season)… so I was happy to find out that Xoco exists! Little E LOVED the loaded guacamole and K devoured his quesadilla! "This is like Chipotle" he said… hahahaha! Not quite, little man 😉
Saturday after lunch I knew they needed a nap, and I was right! We went back to the hotel for nap time and both boys slept a bit. After that, my husband finished work and joined us for a walk over to Maggie Daley Park!
It was a little crowded on a beautiful Saturday afternoon, but we found this boat section that the boys loved!
And finally, we headed to get Chicago deep dish at Pizzeria Due! We didn't have to wait for a table, but the pizza does take a long time to cook so keep this in mind if you go with littles!
We stayed at the Hilton Garden Inn Magnificent Mile because it was the location of my husband's work conference. The hotel was really great and I would stay there again! The location was great for all of the things I wanted to do — everything was really walk-able from the hotel!
I can't wait to go back to Chicago!
---
---