Backyard Party Decor and Menu
We have gotten quite efficient at streamlining the backyard birthday party for my kids! The kids all love a backyard party, and we host them even when it's 100 degrees out — the kids love to splash and play in the water for a few hours and we have plenty of cold drinks and places to sit in the shade for the adults. Here are a few menu and decor ideas we like to use!!
As always, please follow our group, Naptime Deals, for the latest updates and deals on all things mom/baby/kid!!! And if you don't have FB, you can find @naptimedeals on IG or get our daily deal emails!!!
This post contains affiliate links.
Table Cloths these can be pulled down even more to go over the table legs, but I was lazy for this one and just draped them over. Either way, these table cloths are great because they don't blow away! We have these tables to go with them!
Fly Fans! I invested in the fly fans a few parties ago and they WORK! The exact ones I got are no longer available, but there are tons of options that I linked on Amazon!
Chip bins/baskets are from Dollar Tree
Utensil Caddy and Paper Goods came from Target and Walmart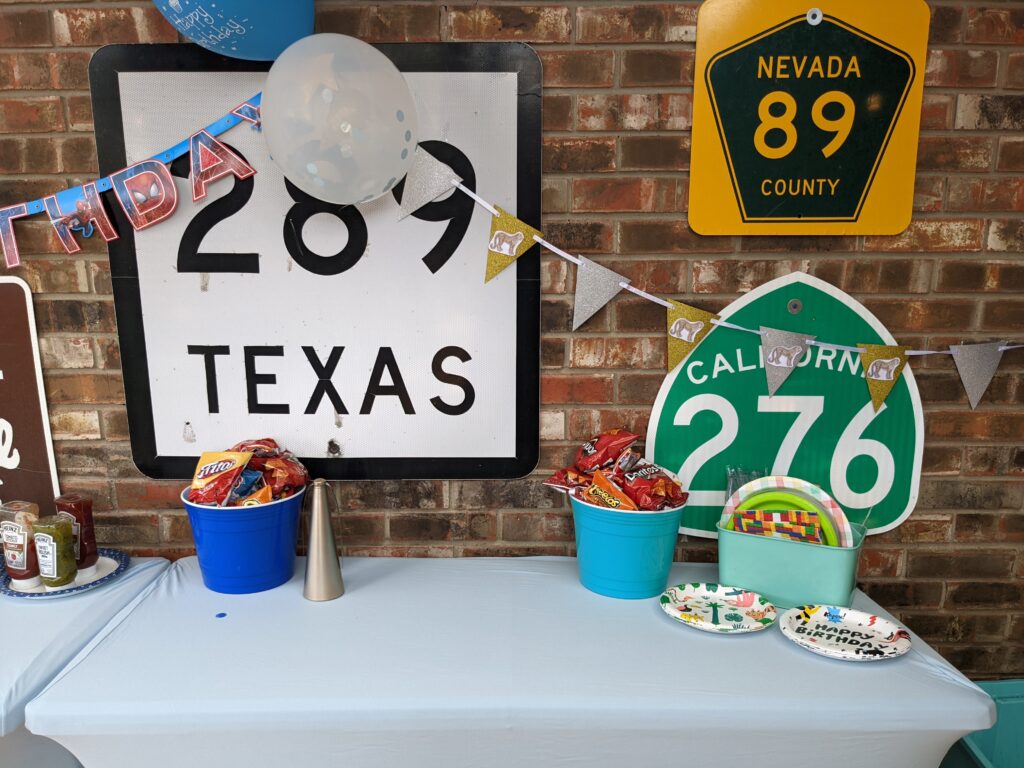 This year, my 5 year old is into Spiderman which was easy to find a banner for, and my 7 year is into Cheetahs which was impossible, so I bought a plain gold and silver one and printed out little cheetahs and taped them on.
Gaffer's Tape works great, and is how I taped everything up to the brick/road signs (which we found by dumpster diving when we first moved into our house)
The confetti was accidental, some of the balloons I taped up popped but it turned out fine!!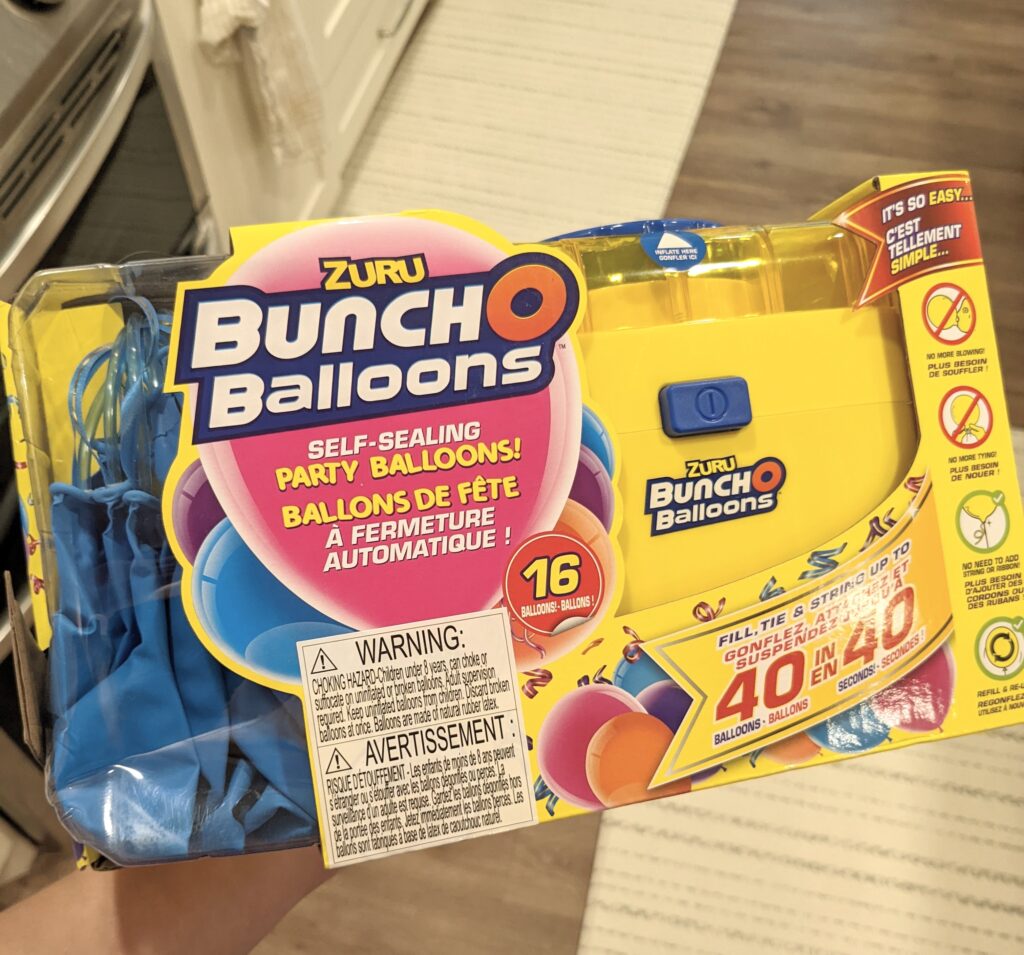 I tried this balloon pump for the first time, and especially if you don't have a balloon pump yet, I highly reco this kit!!! I already had this kind of balloon pump, but the Bunch O Balloons one is SO MUCH BETTER because it has the option to use their self-sealing balloons that can be blown up 40 at a time (In 40 seconds)!!! You can also use it with regular balloons (the Bunch o Balloons ones are pricey, however they claim to be reusable so I will report back on how that works because I am going to try it!!) Either way, I feel like for the price, being able to make 2 nice bunches of balloons for my son's birthday was worth it!!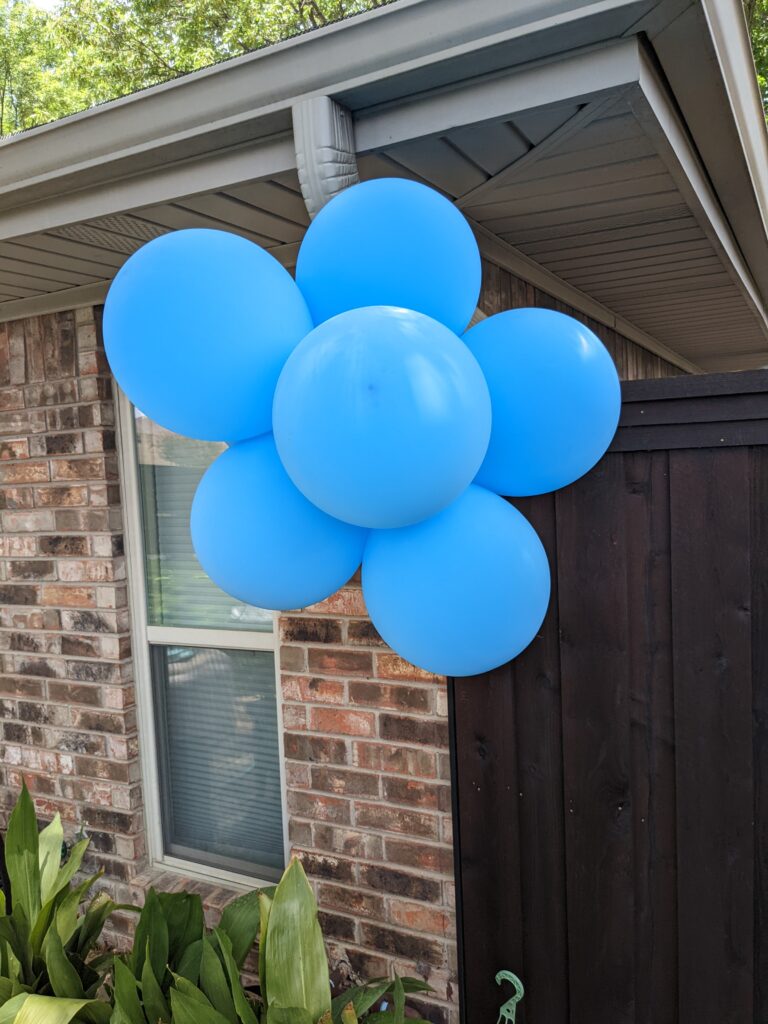 With this kit, I made this bunch as well as another bunch that I displayed inside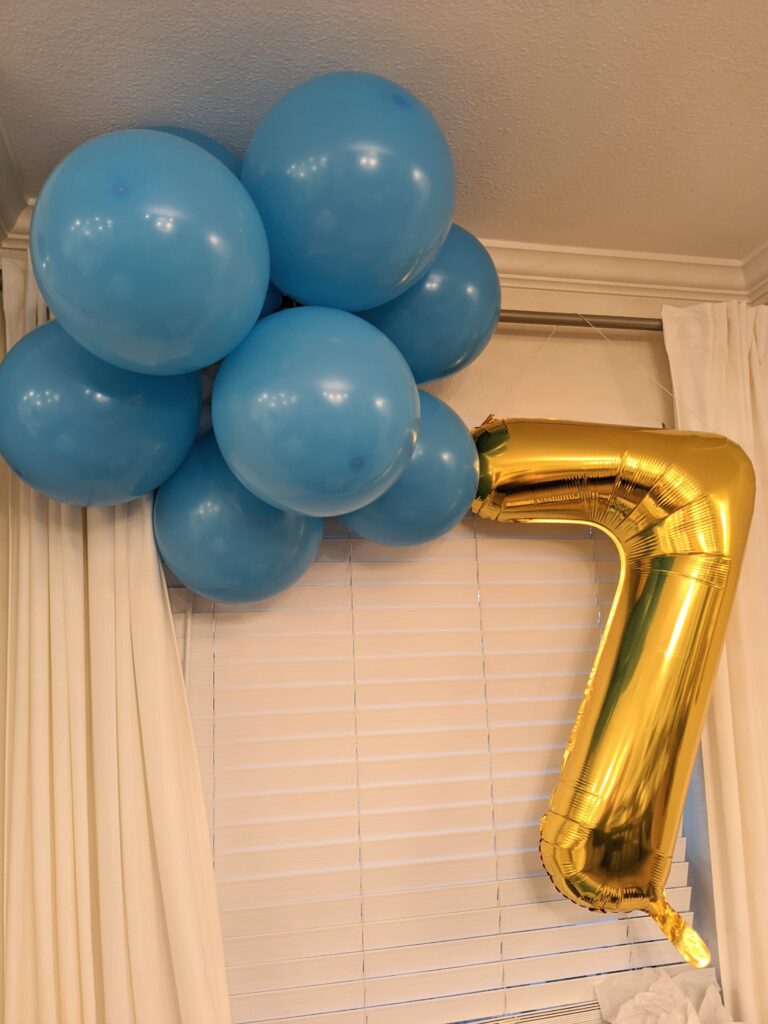 For this particular party, we did sprinklers, the rainbow sprinkler is always a hit, and so is the ice cream shop and the rainbow baby pool. We also had our water table out as well as the slip n' slide!
Sometimes we pull out the big blow-up water slide, but I like to keep it at around 10 kids max if we do that one because when it is 15-20 kids it can get too crazy. We had over 20 kids expected for this party, so we stuck to the small sprinklers/water play.
Kids also love playing on our swingset when they come over as well!!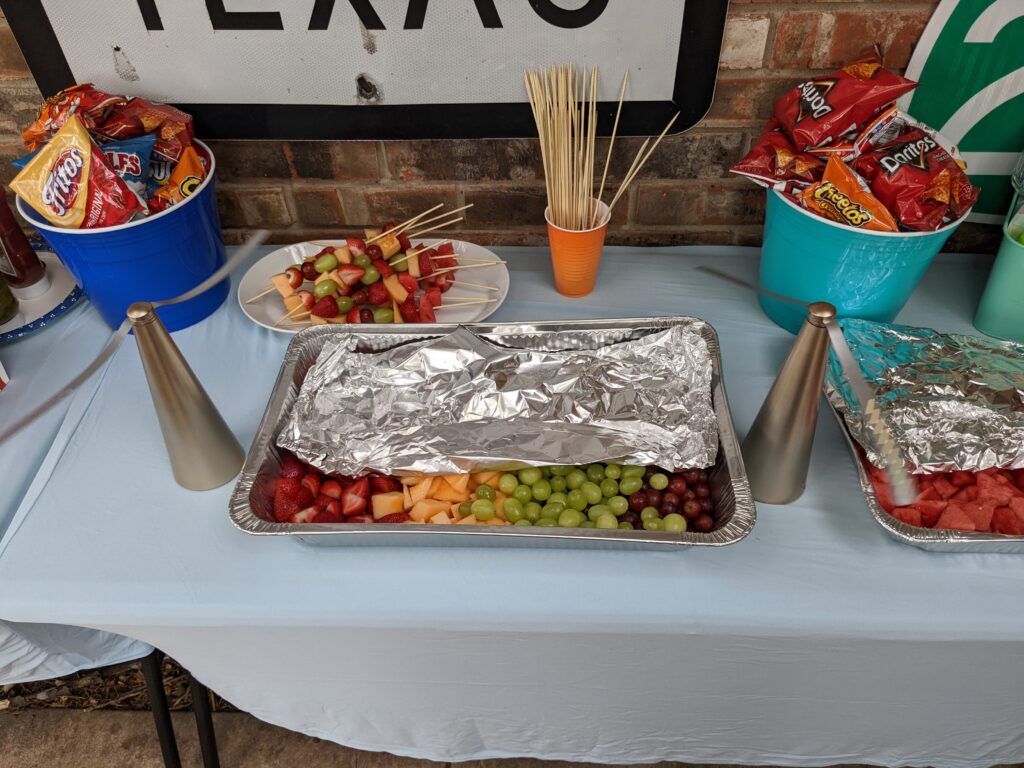 For this party, we did a simple/easy menu of hot dogs, chips, fruit, cupcakes!!
It's honestly my favorite menu we've done so far because it was EASY and I didn't have to pick anything up day of party.
In the past, we did Subway sandwiches for adults + McDonald's chicken nuggets for the kids. My kids love it when we get McDonald's nuggets for parties and they are a great value when you get the shareable packs at our McDonald's!
I also did homemade sandwiches, fruit, and veggies one year but not many sandwiches got eaten that time. I always find it hard to predict how much the adults will eat or not, which is why the hot dog menu was my favorite and the one I'll probably stick with for future parties as long as my husband and kids are on board with it!
For the fruit, I find it gets eaten up better if you put it on skewers which can be time consuming, but worth it because the kids will grab a skewer and eat them up!!! This time I made a few skewers but then got lazy and just put the rest of the fruit out on trays.
---
---